There are many big Indian names who are doing extraordinary work in English literature and achieving great success internationally .But these three writers , Rahul Bhattacharya , Jahnavi Barua & Anuradha Roy , are really doing great work and making big news . In their first and second novel, they were recognized internationally and longlisted & awarded by several prestigious prize. Recently their novel longlisted in MAN ASIAN LITERARY PRIZE 2011 for fiction, result will be announced in Jan 2012 in London. Also ,click here to read about their longlisted Novels and for other longlisted Indian writers novels.
In This Article we tried to introduce you to these writers , who may be lead The Indian English literature , in future.
Rahul Bhattacharya
Rahul Bhattacharya is surprise for Indian English literature, in his debutant novel The Sly Company of People Who Care, he make his presence internationally.
Sports Journalist turn novelist, Rahul Bhattacharya debutant novel, which stet on Guyana, is nominated for prestigious , Man Asian Literary Prize for 2011
Rahul Bhattacharya was born in 1979. A cricket journalist since 2000, he is now a contributing editor with Wisden Asia Cricket and has been writing for the Wisden Almanack since 2003, when he compiled the series overview of India in England, 2002. He also writes for theGuardian.
He was cricket journalist and his first book, Pundits from Pakistan, was a work of reportage on the India-Pakistan cricket rivalry . In the question that Why did you decide to turn next to writing your first novel?
He replied in some interview " I didn't, actually. The form came afterward, at the moment of writing. What I was responding to was the impulse to get away. It's a terribly seductive impulse: What are the consequences? In part I was getting away from writing about cricket as well. But I'm grateful to cricket-writing, without which I may not ever have had a chance to visit the Caribbean."
In the answer of , What inspired him to set the novel in Guyana , on which he set his first novel ?He said "Guyana came much before the novel. I had been there briefly when I was twenty-two. It seared itself into me. How did that happen? I'm not sure. Landscapes, streetscapes, light and sound, a sense of rawness, of looseness, the possibility of transgressions. People, of course. It was odd that I should feel so deeply about a place so peripheral to my life. It was irresistible and, ultimately, inevitable that I would have to follow that curiosity. As I worked my way through it I felt more intimately the poignancy of a place not merely colonized but created entirely out of colonialism. Its themes, displacement, migration, race, they were such potent, visceral things."
He was called the "one true heir" of the great. V. S. Naipaul. On this he said "With great humility. He is a master. I feel no need to qualify that, as some of his admirers and all of his critics do. However, I didn't think of mine as a Naipaulian project. I'm interested in many of his concerns, but mine are not identical. He is relentless and merciless and insatiable in his interrogation of the world. I'm rather more susceptible to the languor or exhilaration of the sensual—music, food, romance. Call it the indulgence of the un-prodigious."
(In Right , his longlisted Novel for Man Asian Literary Prize 2011 ,Click Book Image to Buy )
He called himself mongrel Indian. And said "My father was Bengali, from the east, though born and raised in the small towns of Uttar Pradesh, in the north, and interior Maharashtra, in the centre. My mother is Gujarati, from the west, born and raised in Bombay. My childhood was spent in a town in south India. At home we spoke a little Bengali and a little Gujarati, but out of a reflex neutrality, mostly a Secunderabadi Hindi, the language of our daily transaction, and English, the medium of our education. "
Jahnavi Barua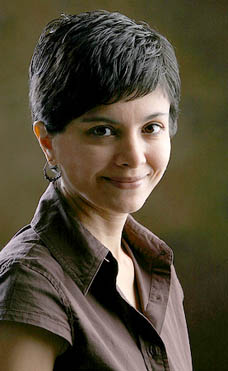 Jahnavi Barua is an Indian author from Assam. She is the author of Next Door, a critically acclaimed collection of short stories set in Assam with insurgency as the background.
Her Recent Novel Rebirth : A Novel lonlisted in Man Asian Literature award 2011.
THE LITERARY WORLD in the Northeast has hung on to its silent fault line of 'authenticity' for a long time. Opposing groups of language and generations jockey for centrality, each eager to politely neuter the other. Jahnavi Barua skates serenely over it all – a young writer encouraged by the older generation, and a writer in English embraced by the vernacular press.
Jahnavi Barua is among the most lucid voices to have emerged in the Indian literary scene in recent times. She writes in English but the ethos around which her stories unfold brings the Brahmaputra to the reader in all its raging glory and untamed passion. The central characters in her story are from Assam and refuse to let go of visuals and fragrances of the land they hail from despite the compulsions of the new 'home' they have migrated to.
Her collection of short stories Next Door and the recently launched novel Rebirth have been critically acclaimed and bear ample testimony to her range and depth as a story teller. Clearly, this is one writer from the north-east who will delight the discerning reader with every new work of hers.
Kabiri , the center character of Rebirth , about the character and the inspiration behind it ,she said "Traditionally, Assamese society has placed great emphasis on — among other things — moderation, restraint and resilience in all spheres of life. In keeping with this, expressing any emotion too loudly is not something that is encouraged. While things
are changing rapidly, politics and globalisation have played their part in impacting traditional behaviour; I do believe that coming from that region has partly resulted in my writing being the way it is.The other reason could be my own philosophy of keeping things simple and minimal, as far as possible."
(in Right , Her Nominated Novel for Man Asian Literary Prize 2011 , Rebirth ,Click book Image to buy )
In Most of the book the Brahmaputra is present in her stories. "The Brahmaputra is a large presence not only in my life, but I think, in the lives of almost all who have lived beside it. The river is captivating in a way that is often hard to describe.I have had the good fortune of spending a lot of time on it; as a child, we lived in a house that was perched on it and even after we left that house, I was able to go back to the river, again and again, as one of my aunts lived right on it. The river has been a good friend to me; sometimes a calming influence and, at other times, a source of creative inspiration.Assamese literature and music are replete with references to the Brahmaputra, showing how profoundly it has impacted people." Jahnavi Barua , in some interview
Jahnavi Barua is doctor by training but she took the decision not to pursue medicine in order to be able to give more time to family life.
Anuradha Roy
Anuradha Roy is a journalist, editor and novelist. She is in the Short List for the Man Asian Literary Prize in 2011 for her second novel The Folded Earth. She is an editor and co-founder of Permanent Black, a publishing house started in 2000
Anuradha Roy's first novel, An Atlas of Impossible Longing, has been published in 16 countries and translated into 13 languages across the world. It has been named by World Literature Today as one of the 60 most essential books on modern India and was shortlisted for the Crossword Prize. Her second novel, The Folded Earth, was published this year in the UK and India.
Anuradha Roy was educated in Hyderabad, Calcutta and Cambridge (UK). Her journalism and book reviews have been published in Outlook, India Today, Outlook Traveller, Biblio, Telegraph, Indian Express, and theHindu. She works at Permanent Black, an independent press publishing in South Asian history, politics and culture. She lives mainly in Ranikhet, India, with her husband Rukun Advani and their dog, Biscoot.
For Her first novel ,An Atlas of Impossible Longing , she was praised internationally . She was the winner of the Picador-Outlook Non-fiction Prize in 2004 and her first novel, An Atlas of Impossible Longing, was shortlisted for the Crossword Award and has been translated into thirteen languages across the world.
" Every once in a great while, a novel comes along to remind you why you rummage through shelves in the first place. Why you peck like a magpie past the bright glitter of publishers' promises. Why you read...This, you think, is the feeling you had as you read Great Expectations or Sophie's Choice or The Kite Runner. This is why you read fiction at all" MARIE ARANA, Washington Post
"It is hard to believe that this is the debut novel by Indian writer Anuradha Roy. Because this is an incredibly polished,
masterful literary pearl" Ohtulete, Estonia
The Folded Earth (2011) , her second novel , Also is getting outstanding reviews from all over the world
(in Right , Her Nominated Novel for Man Asian Literary Prize 2011 , Click Book Image to Buy )
"This is a worthy successor to Anuradha Roy's first novel, An Atlas of Impossible Longing. Her narrative is poised and her language precise and poetic, without being flamboyant. Despite my distaste for novels imbued with Raj nostalgia, I was captivated by The Folded Earth and swept into its narrative. The novel does not take risks with style, structure or theme, but then very few novels do. However, it is extremely good at what it sets out to do: tell a story about love and hate, continuity and change, loss and grief in a convincing and memorable setting" THE INDEPENDENT
Isahitya
In fututre we will do our best to bring these writers in Our Talk to Isahitya section for exclusive interviews .And connect you to them more closely.
The Man Asian Literary Prize in 2011 will be holding the shortlist announcement for the 2011 Prize at a special event at Asia House, London, on 10 January 2012.
"The Man Asian Literary Prize was founded in 2007. It is an annual literary award given to the best novel by an Asian writer, either written in English or translated into English, and published in the previous calendar year. The judges choose a longlist of 10 to 15 titles announced in October, followed by a shortlist of 5 to 6 titles announced in January, and a winner is awarded in March. The winning author is awarded USD 30,000 and the translator (if any) USD 5,000. Submissions are invited through publishers based in any country."
Other Books by these writers Click Book Image to Buy
Article data and images are gathered by several aources including leading magazine , newpaper and blogs.